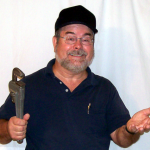 Hello, my real name is Michael Quick. I am a real plumber. It is easy to check my qualifications and reputation. I have solved plumbing problems in Virginia for more than forty years. I started as a licensed apprentice in 1969. I still work in homes and write when I have a chance. The plumbing business I started in 1981, Quick Quality Plumbing and Heating (now known as Quick Quality Plumbing Inc.) has a well established excellent reputation for honesty and professionalism. A top rated non profit consumer study organization located in Washington D.C. has indicated that my business has consistently (for more than twenty years) earned their highest rating for customer satisfaction. My customers have documented that I am honest. As you learn to focus on details concerning experts you trust, you will realize how important my specialized qualifications and reputation are.
As you realize how important the sanitation in your home is, you will change the way you collect plumbing advice. You will learn to focus on details concerning "experts" before you place any value on their advice. You will learn to focus on details concerning the person you allow to install and maintain your plumbing. You will also learn how important it is to select reliable and durable plumbing products. As you realize that safe plumbing protects your family from disease, mold, contaminated insects and other organic and non organic dangers, you will begin to make properly researched decisions. I can help. I published a book. You can look inside the book for free. You can download the whole book for $8.95 or you can order the paper version for $18.95 plus shipping.
The title of my book is OnlineplumbingAdvice.com.